About US
Globefan Group was founded in Taipei, Taiwan in 1986,
‧GLOBEFAN TECHNOLOGY CO. , LTD --- Taiwan, Taipei (Head office)
‧Dongguan Chengguan Technologic --- China, Dongguan (Factory)
The total number of the group are about 400 people (350 in the factory of China Chengguan). The production base covers an area of 4,000 square meters, the monthly production capacity is about 1.2KKpcs and annual turnover is around NTD 360 million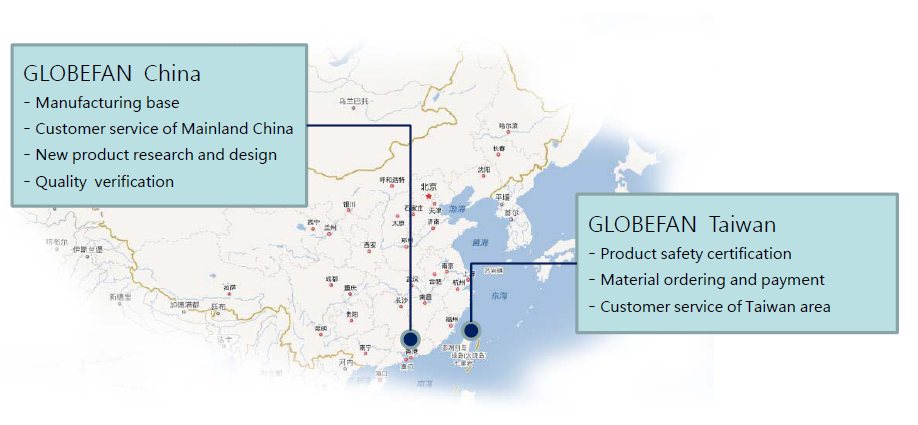 Since 80s, Taiwan takes a significant part in the personal computer industry and it also came along with the demand of thermal solution. Due to the growing demand of cooling, GLOBEFAN was established in New Taipei city, Taiwan in 1986 and was founded to focus on R&D and production of Brushless DC fan.
After years of hard work, GLOBEFAN has won the trust and support of our customers and have strong R & D team and supreme quality control. At the same time, we have also made a number of patents to make GLOBEFAN products more competitive and distinctive!
In 1992, accordingly to the increasing demand, we built a new production base in China to expand the production capacity and to control the production plan more efficiency.
After years of accumulating the research results and production experience.
GLOBEFAN can meet various needs of for customers products in several cooling applications, from PC industry, the home appliance industry to the smart home.
GLOBEFAN not only focus on our own filed of products, but also offer suitable solution for OEM and ODM project to the domestic and overseas customers.
Fulfilling customer needs and proving solution is GLOBEFAN's strength.
Your cooling demand, GLOBEFAN can always find the best solution!